17 March 2019

After a seemingly endless string of preproduction woes, financial setbacks, and personal struggles, Robbe De Hert's 10th feature film Hollywood aan de Schelde has finally arrived. Catch it on streaming service Dalton or, better, on the following silver screens:

Cultuurcentrum Zoetegem (18 March 2019)
Cultuurcentrum De Kern (19 March 2019)
CC Berchem (26 March 2019)
The Roxy Theatre (1 April 2019)
Cinema Plaza (9 April 2019)
CC Stroming - Cinema Westside (23 April 2019)


20 September 2017

Happy birthday, Mr. De Hert. May you live forever.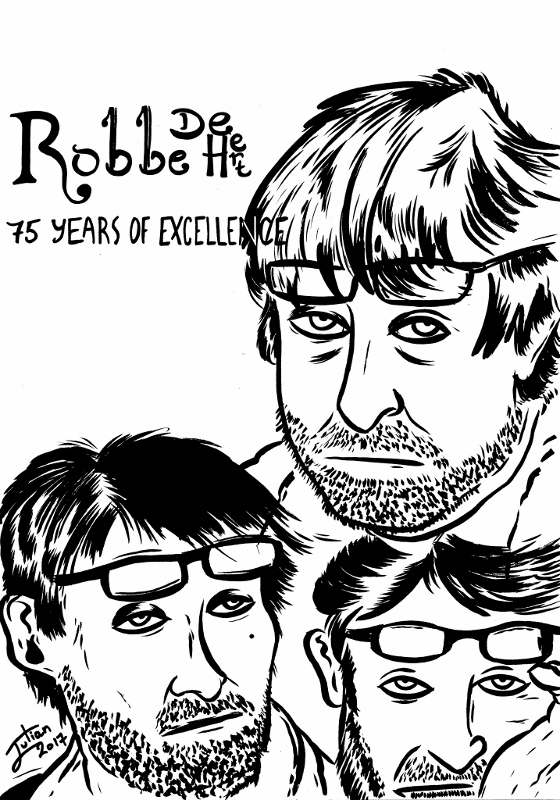 15 September 2017

Robbe De Hert's 1997 masterpiece Gaston's War (Mr. De Hert prefers the original title, Gastons Oorlog) will be screened once more, to commemorate the release of a newly remastered DVD.

Mr. De Hert himself will be in attendance on 21 September 2017 (the day after his birthday, so don't forget your wishes and cards!) to sign the DVD, and have a chat. Place to be: Cinema Klappei, Klappeistraat 2, Antwerp. Be there, or be considered a non-fan of Belgian cinematic classics.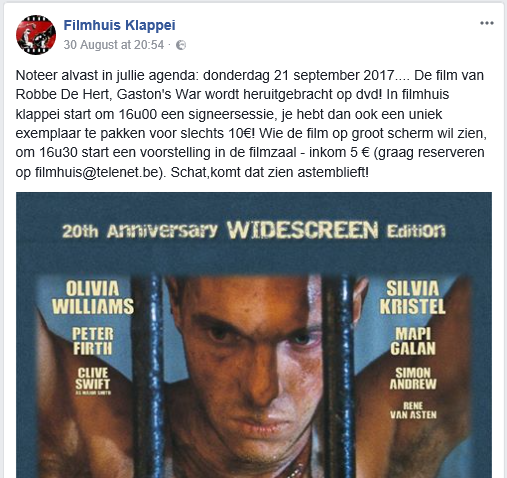 9 January 2017

In order to finance Robbe De Hert's upcoming movie Hollywood aan de Schelde, Belgian creative and chap-with-a-heart Sven Heusequin has started a crowdfunding campaign. Kind donations are accepted via https://www.gofundme.com/help-robbe-de-hert.

Do it. Today. Make a change. Make the movie happen.


23 January 2013

In order to finance his upcoming movie Hollywood aan de Schelde, Robbe De Hert and his crew are holding a garage sale featuring numerous items from the Fugitive years. Final details are yet to be announced, but the sale is scheduled to start in the spring of 2013.

It's quite saddening that Robbe De Hert, a major cinema player and icon, is forced to sell his personal effects in order to raise money. Shouldn't he be compensated for his achievements?

Kind donations are accepted via BE73 3200 3705 3060 (IBAN) and BBRU BE BB (BIC). Do it. Today. Make a change. Make the movie happen.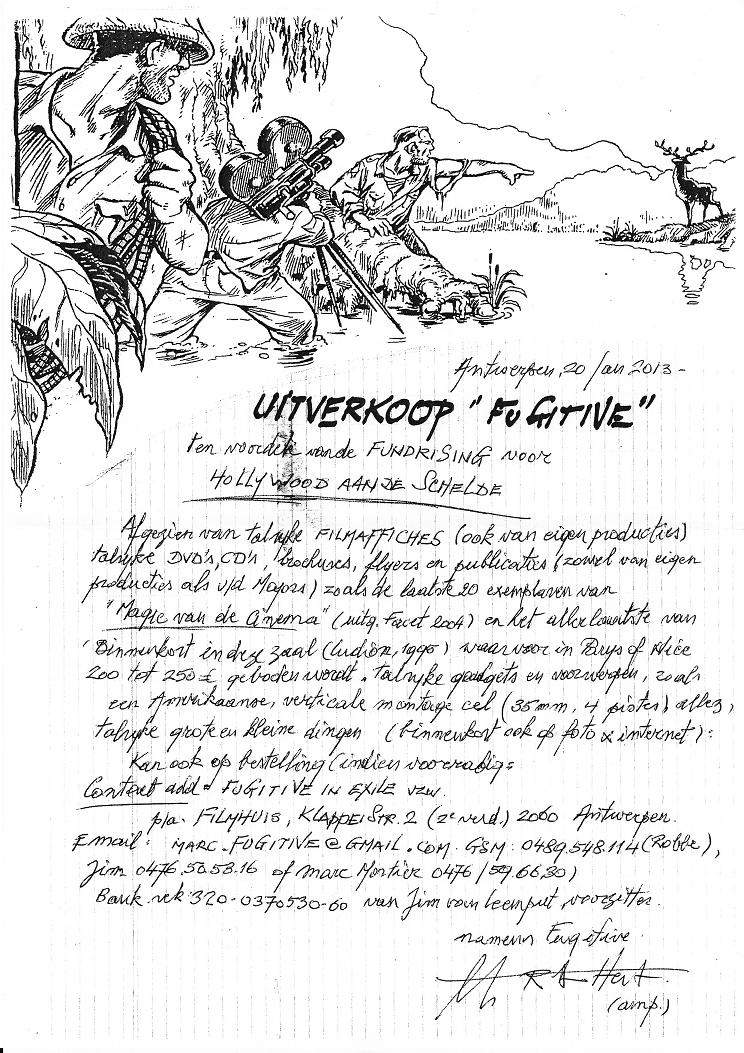 13 October 2010

My 2001 interview with Robbe De Hert, finally online in one handy PDF file. Sorry, Dutch only!


23 September 2010

Regional TV Station ATV filmed the recent celebration of Robbe De Hert's life and work in The Bourla.


12 January 2010

Major site update : unnecessary info has been removed, subcategories have an easier lay-out and new photos have been added.

It's been more than 10 years since Robbe De Hert's last flick, Lijmen, and it doesn't look like Yellow In Yellow
[A Crazy Story] - his dramedy about a mental institution during the second World War, announced in 2001 - will start filming any time soon. For shame.


6 May 2009

Soeur Sourire, a dear work in progress of Robbe De Hert in the eighties and nineties, has been turned into a movie by Stijn Coninx. The flick, starring Cécile De France as the titular nun, is released in Belgian theatres today.
Daens, another Coninx film, was another Robbe De Hert production that never came to fruition. Financial difficulties prevented him from starting.


17 september 2007

Gisteren was Robbe De Hert te gast op Zuiderzinnen, het literaire festival in Antwerpen. De Hert werd over zijn ervaringen met het werk van Willem Elschot geïnterviewd door Angelo Tijssens. Enkele sfeerfoto's en een kort fragmentje op YouTube.

Robbe De Hert, always a prominent guest, was invited to the Zuiderzinnen literary festival in Antwerp.
Angelo Tijssens interviewed De Hert about working with the Willem Elschot oeuvre. Here are some photos and a short clip on YouTube.


8 januari 2007

Robbe was eergisteren te gast bij Fried'l Lesage in het Radio1-programma "Het Beste Moet Nog Komen".

Robbe was interviewed by Belgian radio pride Fried'l Lesage the day before yesterday.


4 december 2006

Op 20 november is in de Antwerpse Roma Hollywood Aan De Schelde (HADS) in première gegaan. "HADS" is de eerste nieuwe RDH-film sinds Lijmen uit 1999. In 2001 was de geschiedenis van de Antwerpse film al het onderwerp van een reeks op ATV.

Hollywood Aan De Schelde (HADS) debuted on November 20 in "Theater Roma" in Antwerp. "HADS" is the first new RDH-movie since 1999's Lijmen. The history of the cinema in Antwerp had already been tackled by De Hert in his 2001 series of the same name.


16 september 2006

21 september komt dichterbij ; vergeet die verjaardagskaartjes niet!

21 September is almost there ; don't forget
those birthday wishes!


4 september 2006

Robbe legt momenteel de laatste hand aan een nieuwe reeks Hollywood aan de Schelde. De aangekondigde film over het gesticht voor geestesgestoorden van Geel tijdens WOII ("het zottenhuis van Geel", dixit De Hert) zal dan toch niet voor 2006 zijn. Fingers crossed voor 2007. Op het einde van de maand wordt Robbe 64.

The new season of the acclaimed Hollywood In Antwerp series is almost done and dusted. De Hert's new feature film about a mental health institution during the second World War was originally planned for 2006, but has since been put on hold. Here's hoping for a 2007 release. Furthermore, Robbe turns 64 at the end of the month. Congrats!


4 december 2005

Men mailde mij om te zeggen dat de nieuwe DVD-versie van Blueberry Hill naar het schijnt een schandaal is : schel geluid in plaats van glorieus Dolby 5.1. Als dit zo is, moeten we massaal mails naar Universal Pictures sturen om dit onrecht te stoppen. Bij Lijmen was het ook al huilen met de pet op. Wanneer komt het verzamelde werk van Robbe nu eindelijk uit op DVD? Alles, in één box, met bangelijk geluid, beeld en extra's? Schandalig zoals het nu is. Enkel De Witte heeft een deftige DVD gekregen.

Some angry viewer sent me a mail. Apparently, the new Blueberry Hill DVD is quite crappy. Maybe you'd better think twice before buying it.


11 november 2005

Hits for this site soared after Robbe's appearance the day before yesterday on The Fags Make The Man, the Flemish version of Queer Eye For The Straight Guy. Thanks folks, but remember : this is only a fansite. I'll try to update more often.


4 mei 2003

Robbe kwam over zijn ergernissen vertellen in het Canvas-programma, De Porseleinen Pony. Tijdens de uitzending hekelde hij echter iets teveel mensen/zaken, zodat prompt beslist werd het geheel te schrappen om "gevoelige luister- en kijkeraars niet te schofferen". Flauw.